Accommodations
Plush accommodations with Caribbean sea views
Within our chic hotel of pristine and unfettered elegance, lies the mesmerizing calmness of our Belize beachside accommodations, which evoke luxury and heavenly dreams. Deluxe cotton linens, ensuite oversized-bathrooms, hand-made local furnishings and inimitable artwork, adorn our 13-luxuriously appointed sea and garden view rooms in this Belizean haven.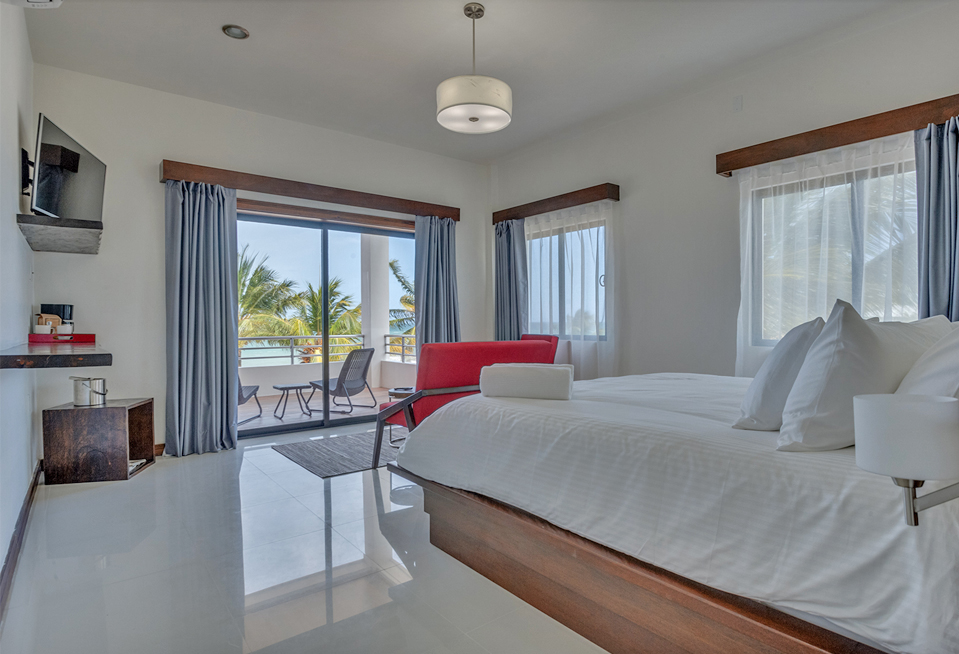 BEACHFRONT STUDIO
Sleeps 2 Adults
Located on the first and second floors, our Beachfront Studios offer intimate space for every couple's absolute pleasure. This open and airy room features an over-sized bedroom, en-suite bathroom, floor to ceiling glass doors, and a well-appointed cabinet with luxury amenities. Its veranda is replete with chairs to enjoy the morning's sunrise. All these studios overlook the tranquil Caribbean Sea- let it lure you.
From $399 per night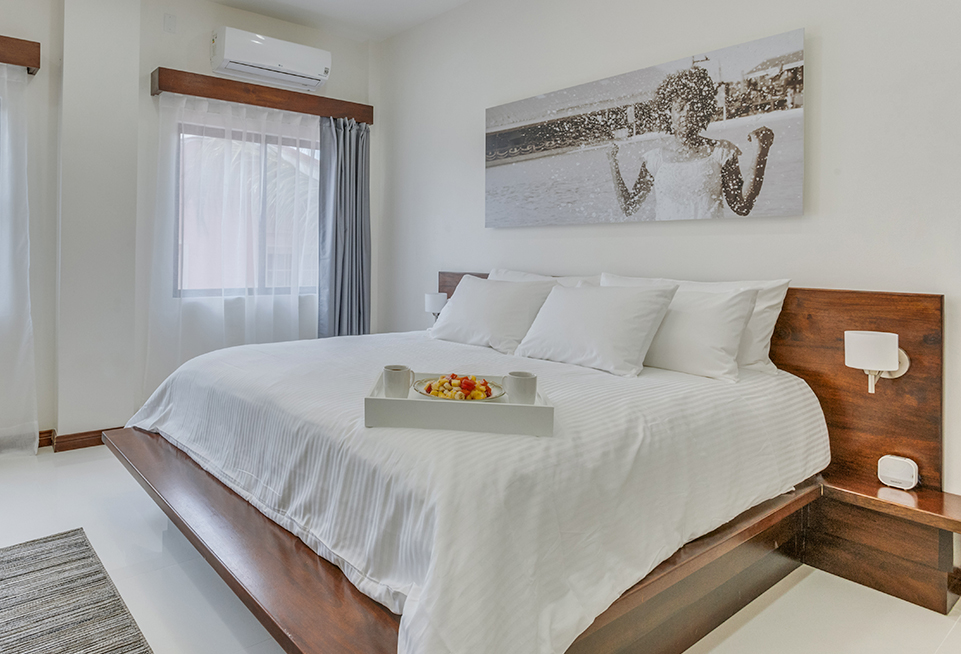 1-Bed Beach Suite
Sleeps 2 Adults or 2 Adults, 1 Child
Located on the first, second and third floors, our 1-Bedroom Garden Suite is ideal for couples or small families who require the creature comforts and luxury amenities of a larger space. This open and airy room features an over-sized bedroom, ensuite bathroom, living area, pullout sofa bed, floor to ceiling glass doors, and kitchenette.
From $400 per night
EXCLUSIVE PENTHOUSE
Sleeps 6 Adults or 4 Adults, 2 Children
Located on the third floor, our Exclusive Penthouse offers the perfect luxury escape for the esteemed traveler. This modern and chic Penthouse has an abundance of open-air and handpicked furnishings by the First Lady of Belize- Kim Simplis Borrow. It flows out unto a well-appointed over-sized veranda to relax and enjoy the breathtaking views of the Caribbean Sea that envelopes you.
From $1,499 per night